My Blog
Posts for: December, 2018
By David R. Leonoff, DDS, PC
December 21, 2018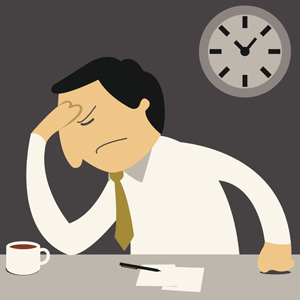 Chronic stress can cause any number of physical problems like back pain, insomnia or stomach ulcers. In the mouth, it can also be the cause of teeth grinding or clenching habits that may lead to pain and tooth damage.
Besides toothaches and jaw pain, stress-related teeth grinding may also be causing your teeth to wear at a faster than normal rate. While the teeth can withstand normal forces generated from biting and chewing, a grinding habit could be subjecting the teeth to forces beyond their normal range. Over time, this could produce excessive tooth wear and contribute to future tooth loss.
Here, then, are some of the treatment options we may use to stop the effects of stress-related dental habits and provide you with relief from pain and dysfunction.
Drug Therapy. Chronic teeth grinding can cause pain and muscle spasms. We can reduce pain with a mild anti-inflammatory pain reliever (like ibuprofen), and spasms with a prescribed muscle relaxant drug. If you have sleep issues, you might also benefit from occasional sleep aid medication.
A Night or Occlusal Guard. Also known as a bite guard, this appliance made of wear-resistant acrylic plastic is custom-fitted to the contours of your bite. The guard is worn over your upper teeth while you sleep or when the habit manifests; the lower teeth then glide over the hard, smooth surface of the guard without biting down. This helps rest the jaw muscles and reduce pain.
Orthodontic Treatment. Your clenching habit may be triggered or intensified because of a problem with your bite, known as a malocclusion. We can correct or limit this problem by either moving the teeth into a more proper position or, if the malocclusion is mild, even out the bite by reshaping the teeth in a procedure known as occlusal (bite) equilibration.
Psychological Treatment. While the preceding treatments can help alleviate or correct dental or oral structural problems, they may not address the underlying cause for a grinding habit — your psychological response to stress. If you're not coping with stress in a healthy way, you may benefit from treatments in behavioral medicine, which include biofeedback or psychological counseling.
If you would like more information on dental issues related to stress, please contact us or schedule an appointment for a consultation. You can also learn more about this topic by reading the Dear Doctor magazine article "Stress & Tooth Habits."
By David R. Leonoff, DDS, PC
December 11, 2018
As December brings the old year to a close, it's a great time to set goals for the year to come. This might include a major life change, such as a new job—or even a new romance! If one of these items is on your list for 2019, a smile makeover may be just the thing to help you get there.
Having a great smile can give your self-confidence a real boost. It can also affect how you are perceived by others. According to a survey by the American Academy of Cosmetic Dentistry, 99.7% of adults believe a smile is an important social asset and 96% believe an attractive smile makes a person more appealing to members of the opposite sex. At the same time, three quarters of adults feel that an unattractive smile can hurt a person's chances for career success.
If you aren't pleased with your smile and want a new look, we can help you figure out which cosmetic dental treatments could be right for you. The answer might be something simple—like an overall brightening of the smile with professional teeth whitening, or fixing a small crack or chip in a single tooth with cosmetic tooth bonding. If you're unhappy with worn-down or crooked teeth, dental veneers or orthodontic treatment might be the way to go. In fact, many adults find that orthodontic treatment with clear aligners is a great way to get a beautiful, straight smile without drawing attention to the fact that a makeover is in progress.
Of course, it's not only important for your smile to look good but also for your whole mouth to stay healthy. So if you are experiencing any tooth pain, unusual mouth sores or gum problems, it's time for you to come in for an exam. And if it's been a while since you've had a dental checkup and professional teeth cleaning, why not make an appointment for early in the year? Don't start the new year with last year's dental problems!
If you would like more information about cosmetic dental treatments or preventive dentistry, please contact us or schedule a consultation. You can also learn more by reading the Dear Doctor magazine articles "How Your Dentist Can Help You Look Younger" and "Dental Hygiene Visit."