My Blog
Posts for tag: orthodontic treatment
By David R. Leonoff, DDS, PC
May 01, 2019
Sometimes, looking at old pictures can really bring memories back to life. Just ask Stefani Germanotta—the pop diva better known as Lady Gaga. In one scene from the recent documentary Five Foot Two, as family members sort through headshots from her teen years, her father proclaims: "Here, this proves she had braces!"
"If I had kept that gap, then I would have even more problems with Madonna," Lady Gaga replies, referencing an ongoing feud between the two musical celebrities.
The photos of Gaga's teenage smile reveal that the singer of hits like "Born This Way" once had a noticeable gap (which dentists call a diastema) between her front teeth. This condition is common in children, but often becomes less conspicuous with age. It isn't necessarily a problem: Lots of well-known people have extra space in their smiles, including ex-football player and TV host Michael Strahan, actress Anna Paquin…and fellow pop superstar Madonna. It hasn't hurt any of their careers.
Yet others would prefer a smile without the gap. Fortunately, diastema in children is generally not difficult to fix. One of the easiest ways to do so is with traditional braces or clear aligners. These orthodontic appliances, usually worn for a period of months, can actually move the teeth into positions that look more pleasing in the smile and function better in the bite. For many people, orthodontic treatment is a part of their emergence from adolescence into adulthood.
Braces and aligners, along with other specialized orthodontic appliances, can also remedy many bite problems besides diastema. They can correct misaligned teeth and spacing irregularities, fix overbites and underbites, and take care of numerous other types of malocclusions (bite problems).
The American Association of Orthodontists recommends that kids get screened for orthodontic problems at age 7. Even if an issue is found, most won't get treatment at this age—but in some instances, it's possible that early intervention can save a great deal of time, money and effort later. For example, while the jaw is still developing, its growth can be guided with special appliances that can make future orthodontic treatment go quicker and easier.
Yet orthodontics isn't just for children—adults can wear braces too! As long as teeth and gums are healthy, there's no upper age limit on orthodontic treatment. Instead of traditional silver braces, many adults choose tooth-colored braces or clear aligners to complement their more professional appearance.
So if your child is at the age where screening is recommended—or if you're unhappy with your own smile—ask us whether orthodontics could help. But if you get into a rivalry with Madonna…you're on your own.
If you have questions about orthodontic treatment, please contact our office or schedule a consultation. You can read more in the Dear Doctor magazine articles "The Magic of Orthodontics" and "Orthodontics For The Older Adult."
By David R. Leonoff, DDS, PC
March 22, 2019
In her decades-long career, renowned actress Kathy Bates has won Golden Globes, Emmys, and many other honors. Bates began acting in her twenties, but didn't achieve national recognition until she won the best actress Oscar for Misery — when she was 42 years old! "I was told early on that because of my physique and my look, I'd probably blossom more in my middle age," she recently told Dear Doctor magazine. "[That] has certainly been true." So if there's one lesson we can take from her success, it might be that persistence pays off.
When it comes to her smile, Kathy also recognizes the value of persistence. Now 67, the veteran actress had orthodontic treatment in her 50's to straighten her teeth. Yet she is still conscientious about wearing her retainer. "I wear a retainer every night," she said. "I got lazy about it once, and then it was very difficult to put the retainer back in. So I was aware that the teeth really do move."
Indeed they do. In fact, the ability to move teeth is what makes orthodontic treatment work. By applying consistent and gentle forces, the teeth can be shifted into better positions in the smile. That's called the active stage of orthodontic treatment. Once that stage is over, another begins: the retention stage. The purpose of retention is to keep that straightened smile looking as good as it did when the braces came off. And that's where the retainer comes in.
There are several different kinds of retainers, but all have the same purpose: To hold the teeth in their new positions and keep them from shifting back to where they were. We sometimes say teeth have a "memory" — not literally, but in the sense that if left alone, teeth tend to migrate back to their former locations. And if you've worn orthodontic appliances, like braces or aligners, that means right back where you started before treatment.
By holding the teeth in place, retainers help stabilize them in their new positions. They allow new bone and ligaments to re-form and mature around them, and give the gums time to remodel themselves. This process can take months to years to be complete. But you may not need to wear a retainer all the time: Often, removable retainers are worn 24 hours a day at first; later they are worn only at night. We will let you know what's best in your individual situation.
So take a tip from Kathy Bates, star of the hit TV series American Horror Story, and wear your retainer as instructed. That's the best way to keep your straight new smile from changing back to the way it was — and to keep a bad dream from coming true.
If you would like more information about orthodontic retainers, please contact us or schedule an appointment for a consultation. You can learn more about this topic in the Dear Doctor magazine articles "Why Orthodontic Retainers?" and "The Importance of Orthodontic Retainers." The interview with Kathy Bates appears in the latest issue of Dear Doctor.
By David R. Leonoff, DDS, PC
January 20, 2019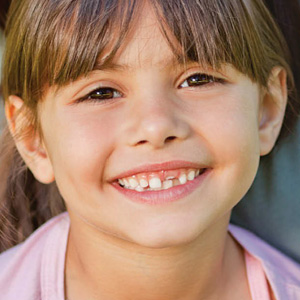 Somewhere around age 6, your child's primary (baby) teeth will begin to give way to their permanent set. If all goes well, you'll notice all the front teeth erupting in the right position: the top teeth slightly overlapping the bottom and all coming in without crowding.
Sometimes, though, the process doesn't occur as it should and a bad bite (malocclusion) may develop. You can get a head start on treatment if you know what to look for. Here are a few problems for which you should see a dentist — or more likely an orthodontist — for a thorough evaluation.
Spacing problems. Teeth should normally come in right next to each other without a noticeable gap. But if you notice excessive space between the permanent front teeth especially, this may be an indication there's a discrepancy in size between the teeth and the jaws. At the other end of the spectrum, if teeth on the same arch appear to overlap each other, this indicates crowding in which there's not enough space for the teeth to erupt properly.
Bad bites. Malocclusions can take different forms. In an underbite, the front bottom teeth bite in front of the upper teeth. If there's a noticeable gap between the upper and lower teeth when the jaws are closed, this is known as an open bite. Front teeth biting too far down over the lower teeth is a deep bite and could even include biting into the soft tissue of the hard palate. Cross bites can occur in either the front or back teeth: if in the front, some of the lower teeth will bite in front of the upper; if in the back, some of the lower teeth bite outside the upper rather than normally on the inside.
Abnormal eruptions. You should also be alert for protusions, in which the upper teeth or the jaw appears to be too far forward, or retrusions, in which the lower teeth or jaw appears to be too far back. You should also be concerned if permanent teeth erupt far from their normal position — this is especially likely if the primary tooth was also out of position, or was lost prematurely or not in the right order.
If you would like more information on monitoring your child's dental health, please contact us or schedule an appointment for a consultation.